Week #48 | 1st of December, 2022
Dear Readers,



It is Thursday, Dec 1st, 2022 and I am in Singapore… although on a flight right now turning my nose back to Europe primarily for family reasons.
Flying back on a day flight with Emirates out of the Lion City is never a bad idea, especially when it's a clear day as you can see from the featured photo album towards the bottom of this newsletter. The photos cover Batam, the waters around Singapore, and finally approaching Dubai across Oman with a major Omani port before reaching Dubai.
Singapore arrival is still efficient, although with the new APP/online registration, I doubt that anyone over 50+ will find it efficient. Don't get me wrong. It is, of course, fantastic with online/apps and what not, but it is just like my argument earlier about WHY CAN'T SHIPOWNERS NOT HAVE BOTH PERSONAL AS WELL AS INTERNET CUSTOMER SERVICE? Banks are the same – if you have mega profits, there SHOULD be a rule that tells you to facilitate BOTH online as well as personal services, and people can take their choice. It should NOT be an option for shipowners, banks, public authorities, etc. to hide behind the sacred internet in order NOT to provide customer service. I am adamant and confident that the shipowner, country, and even bank who is able to forgo their greed a bit and offer BOTH will be a winner.
Just see this quote from a network member about sending just a small amount of money to Europe:
"I don't know. Banks are crooks. They always take a cut. The only "free" transfers are made in Euros within the EU. For everything else there is a fee. The worst recent example, I sent EUR 1000 to France. The receiver got 950, and I also paid 15 at my end, EUR 65 => 6.5% fee. We should be in banking not forwarding."  ?
What a case in point! NORDEA / DANSKE BANK / HSBC whatever you are all called: besides looking after the bonuses for your bosses can you explain why it should cost this amount of money to make a small payment across Europe?
Where is the government in all of this?
Banks will give you an umbrella when the sun is shining and want it back when it's raining. Don't forget: borrowing 100 million is easier than borrowing 10,000 because otherwise, some of their employees will NOT feel VIP and snobbish enough to speak to you. Shame on the banks overall and generally also the authorities who are too feeble to give them a slap that can be felt, particularly in the field of CUSTOMER SERVICE…
Anyway back to our shipping world which perhaps is more in line with the real world.

We start off in the Solomon Islands… now that is certainly not a daily event, right?  In this rather remote location, we speak with Express Freight Management in Honiara who tell us about their shipping services in their part of the world..

Next, we have interviews from the archives from Germany, a land known for not just beer and sausage but culture as well. We speak with COLI Logistics who tell us about their project cargo and breakbulk services.
Finally, we visit AD Transport Solutions in Panama.
We, of course also provide you with shipping news, trade intel and our special video photo and photo album of the week.  By the way, did you ever see our corporate video? Check it out here, you can also download the free PCW App.
Until next Thursday,  I remain,
Yours sincerely,
Bo H. Drewsen
bo.drewsen@projectcargo-weekly.com
Express Freight Management – Honiara, Solomon Islands
Interview with
Cornelio Duano
Branch Manager
First of all Cornelio, who owns EFM; what is your head count; where do you have offices?
The owner and managing director of Express Freight Management is Robert I. Howden. Here is a graphic about our departments and staffing:
We have offices in:
• Papua New Guinea – POM
• Papua New Guinea – LAE
• Fiji – Nadi
• Brisbane Australia
• Solomon Island
Video Interview:
Coli Schiffahrt & Transport Bremen GmbH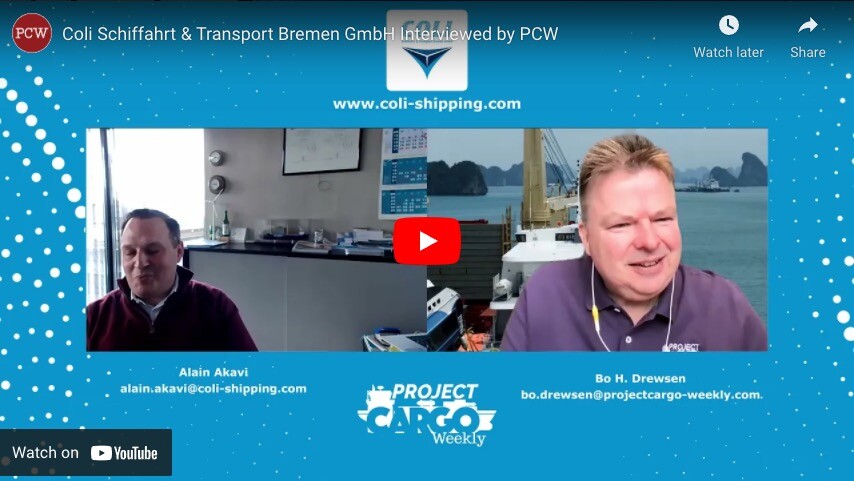 Alain Akavi, Managing Directory at Coli Schiffahrt & Transport Bremen GmbH was interviewed by Bo H. Drewsen, Editor in Chief at Project Cargo Weekly. http://www.coli-shipping.com
AD Transport Solutions – Panama
Interview with
Ms. Dorita de Bolaños
President and C.E.O.
When was your company established, Dorita? Who are the owners today and what is your main line of business?
Our Company was established in March 2010, but it really was March 2012 when we started full operations. Our principals are general manager Dorita Miranda de Bolaños & Andres Bolaños, both founders well known in the local market with good experience in logistics services. Also we have an operations manager Linda Young who has extensive experience in the industry.
Our main line of Business is related to Ocean, air and land transportation, including specialized cargo such as reefer and oversize cargo. We also offer value-added services such as customs brokerage & cargo insurance.
As an additional service, we provide consultancy, for example training in subjects related to logistics among others.
Part Three of the XL Trends Report
Editor's Note:
PCW supports breakbulk conferences and none more so than the next Antwerp XL expo taking place in the cradle of breakbulk shipping, Antwerp in just about 1 years time. Check their latest information / logistics intel.
The Covid-19 outbreak made the previously invisible transport sector visible. After all, when the logistics chain falters, store shelves remain empty. No shipping, no shopping!
How will large-scale logistics need to change to adapt to the future?
AntwerpXL had the pleasure to partner with the amazing speaker and industry specialist Catrien Scheer, Chair of Fast Lines Belgium to explore this question.
Predictability: Where is My Cargo in the Era of Disruptions?
Editor's Note:
Latest news here from European Shippers Council, they stand together and so must we all in freight forwarding & shipping.
What do beneficiary cargo owners expect from port authorities and shipping lines? What are the data that BCOs are looking from ports authorities? What are the data collaboration initiatives from shipping lines to address the cargo owners required time of arrival? How does the new supply chain of the future look like?
Warning of Container Shipping Rate War Ahead
Editor's Note:
About time, we need another war…? anyway from a forwarders and shippers point of view I guess. See here latest from Seatrade on this very subject.
Speaking at TOC Asia Alan Murphy, CEO and Founder of Sea-Intelligence, said the container market was returning to normality but asked if this was pre-pandemic level of normality in 2019, a relatively good year for container shipping if 2020 – 2022 is excluded, or a much worse scenario of five – six years ago.
BASF to Build Plant in Zhanjiang
German chemical giant BASF SE will invest in a new world-scale Neopentyl Glycol (NPG) plant with an annual production capacity of 80,000 tonnes at its Verbund site in the city of Zhanjiang, south China's Guangdong Province.
ValoArena Arrives in the United States
Valo Motion, the award-winning Finnish maker of active mixed reality products, announced its first two installations of ValoArena in the United States. The new unattended 6-player mixed reality playground can be found at RPM Raceway in New Jersey and Air Madness Trampoline Park in South Dakota.
Agroberries to Invests in Morocco Expansion
Chilean berries producer, Agroberries, has announced an around €40 million investment as it expands its farming operations into Morocco. Agroberries, which is said to be one of the largest berry marketers in the world, serves a diverse retail client base. The company supplies customers with berries from its own farming operations – which span more than 2,500 hectares worldwide – as well as from a vast network of third-party growers.
Fortescue to Produce Green Ammonia for Agriculture in Naivasha
On the sidelines of the 27th United Nations Climate Change Conference (COP27) in Sharm el-Sheikh, Egypt, Fortescue Future Industries (FFI), a subsidiary of the Australian group Fortescue Metals, has signed a contract with the Kenyan authorities to decarbonise agriculture. FFI plans to produce ammonia from clean electricity.

Taking-off from Dubai en Route to Singapore
Editor's Note:
Taking off from Dubai is a cool experience. I shot this video on enrout to Singapore earlier this week.
Editor's Note:
Dhow shipping and OLD Dubai as seen here by the creek from Radisson Blu, Deira… nice indeed and a reminder of things past.
Editor's Note:
Departing the Lion City on Emirates on a clear day & arriving Dubai. View the photo album.