Week #34 | 25th of August, 2023
Dear Readers,



Today is the 25th of August and we are back with Project Cargo Weekly. This week also marked the first school day after the 2 1/2 months long summer holidays for the kids and I am expressing a sigh of relief along with many other parents no doubt that their offspring finally has to get back into the routine. Calculating how many school days the kids actually have taking into consideration the summer holidays, winter break (1 week), Xmas break (3 weeks), Spring break 1 week, Easter…it does amount to quite some time off. I am not a teacher but I do feel that the summer break is simply too long. I still managed to travel to Asia for a month together with them so of course it has upsides as well.
This summer I also had a colonoscopy under a screening program which they have here in Stockholm for people of a certain age and I have to admit that I marvel at what the doctors can do, what they can check and to see one's intestines on a monitor whilst the doctor is checking for cancerous items was indeed a first for me. I was close to chicken out and told myself numerous times hey you are fine, you don't need it, but then in the end I found my backbone for once and went through it. Uncomfortable to say the least but the relief after and that you have been checked and found to be in working order was palpable. At the end of the day rich or poor we only got one health and there is no wealth that we can bring along with us on our final journey so best spend it, be happy and make someone happy whilst we are around. What is the point having ex wives or family members arguing about "dead things", your estate and feathering the lawyers already too comfortable nest ?
Nature, also this summer, has shown us that we are NOTHING compared to nature and we had better respect nature in all respects, whilst storms and disasters do happen with regularity it does seem that we have entered a period of adverse weather conditions as a new "normal". Seeing this footage from Beijing (and neighbouring province of Hebei) where I lived from 1991-1996 originally, and again 2008-2012 was indeed an eye opener.
Shipping-wise I have kept myself rather busy my philosophy is either you are IN or you are OUT. I am not the "modern day dad" who can unplug completely certainly not if you are the owner, or majority partner in a company you cannot be both an employee and an owner at the same time. Make a choice and go for it… and my respect goes out to those worldwide who try their best to establish a new business, and who are not paid in spades, are rewarded with huge parachutes when they f…. up the business as we have seen in many international companies or even government entities. The only time I do unplug is when I travel by ship as a passenger on a cargo ship mind you – thus as mentioned before the next one is booked for departure end of February / early March from either Leixoes or Gemlik to Japan in an owner's cabin.
I am currently in Qatar writing this editorial and tomorrow I shall be departing on a very long haul flight to São Paulo, Brazil and Santiago, Chile where I haven't been for 20 years give or take. 15hr35 Qatar to Sao Paolo and then 4hr25 to Santiago including 5 hrs waiting in GRU – so yes brought books, sleeping pills and downloaded some series from Netflix to my S23ultra… I may even have time to write letters to all of my ex wives so thankfully the flight is long….
I managed to do quite a few interviews and thus I am happy to tell you what is in store today:
1. The Danish company DTK Air & Sea, strong in European-wide trucking and now also project cargoes worldwide is featured.
2. The UK company ALS Worldwide with a smart move by opening an office in Somaliland – of all places – is here.
3. From the archives, an interview with SAL Heavy Lift in Hamburg, a provider of very specialized heavylift tonnage.
I do provide you with shipping news, trade intelligence and both featured picture and video of the week as well as wise words.
Don't forget to look me up at Booth M35, belonging to Atlas Heavy at Breakbulk Americas in Houston on 26-28 September.
I remain, until the 7th of September with best regards,
Yours sincerely,
Bo H. Drewsen
bo.drewsen@projectcargo-weekly.com
Video Interview
DTK Air & Sea – Denmark
Interviewees:
Niels Bierbum, Business Development Manager/Project Forwarding at DTK Air & Sea
Thomas Broch-Lips, Transport Manager at DTK Air & Sea
Søren Kusk Mikkelsen, CEO at DTK East A/S and DTK Air & Sea A/S
Video Interview
ALS Worldwide – Somaliland
Ian Harris, Regional Business Development Director at ALS Worldwide Group interviewed by Bo H. Drewsen, Editor in Chief at PCW.
SAL Heavy Lift – Germany
Interview with
Mr. Jürgen Kuntz
Senior Manager, Head of Africa Chartering Desk
First of all Mr. Kuntz tell our readers a bit about your own shipping background. I recall that I met you several years ago in China. How did you get into shipping in the first place and tell us a bit about your career leading up to your current position with SAL?
That must have been in the early 2000's when I was in Shanghai to open the first office for SAL in Asia. I recall that very well, we later extended our presence with an office in Beijing. Due to my family background, I joined SAL as a trainee in the mid 90's. After completion of the apprenticeship and my military service in the German Navy, I worked in the chartering department in Steinkirchen, from where SAL originated.
DP World to Add 3 Million TEU of New Container Handling Capacity by End of 2023
Editor's Note:
Dubai Port World is expanding. Also, we heard through the grapevine that they are getting more into logistics so let us see where it all leads… everyone wants to be good at everything nowadays.
The expansions will bring the company's total gross capacity to 93.6 million TEUs, with key projects set to be completed in the Dominican Republic, Türkiye, Egypt and Saudi Arabia, among others.
HMM Orders Four Heavylift Newbuilds
Editor's Note:
HMM ordered 4 newbuildings and as you can see they are similar to those of NYK with a large unobstructed deck space no doubt for loading wind turbine blades etc. without problems.
Hyundai Merchant Marine (HMM), South Korea's largest shipping company, has ordered four 38,000-ton heavy-lift ships from China's Huangpu Wenchong, equipped with advanced features, and reported strong financial performance for H1 2023, along with compliance readiness for carbon intensity regulations.
Ethio-Djibouti Corridor Teetering on the Edge
Editor's Note:
Along with our interview this week about Somaliland and Berbera Port as alternative to Djibouti here is the latest on the Djibouti/Addis corridor… seems things also politically are a bit unstable at Djibouti which could be Berberas chance?
The Ethio-Djibouti corridor plagued by deteriorated road quality and security concerns has impacted the annual economic gains of the country by up to 5.6 billion Br, according to a study by Ethiopian Logistics Sectoral Association (ELSA).
Panama Canal Drought: Lowering Water Levels Threaten the Trade Route
Editor's Note:
Climate change… yet again.
Drought in the Panama Canal – pretty scary scenario.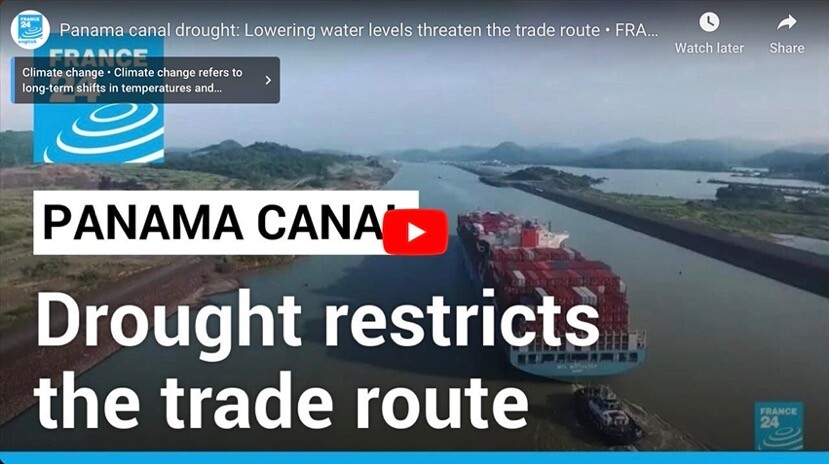 Lotte to Build Copper Foil Factory in Spain
The South Korean conglomerate Lotte has announced the construction of a factory in Spain for the production of copper foils for use in battery cells for electric cars. Near Tarragona, up to 30,000 tonnes of copper foils are to be produced per year from 2025.
Singapore-based Solar Company to Bring Manufacturing Plant, 1,800 Jobs to Albuquerque
Construction on the plant is expected to begin in 2024, and as soon as 2025, Albuquerque-made solar panels could be headed to both rooftops and power plants.
EVE Energy Invests in New Battery Manufacturing Facility in Malaysia
China-based lithium battery manufacturer EVE Energy has announced the construction of a new manufacturing facility in Kedah, Malaysia. This will be EVE's 53rd manufacturing facility globally. The new facility will specialize in the production of cylindrical lithium-ion batteries for power tools and electric two-wheelers across Southeast Asia.
RCT Signs MoU to Advance Solar Factory in Manitoba
To power the growth of Manitoba's low-carbon economy and set a strategic course toward domestic renewable energy manufacturing, the Manitoba government has signed a memorandum of understanding with German solar technology provider and manufacturer RCT Solutions to explore the construction of a state-of-the-art production facility within the province,
SSS – Sustainable Shipping Stockholm
Editor's Note:
A minibulker on the way from downtown Hammarby Sjostad to turn and return to the inner lakes with the aim of either loading or discharging bulk items etc.
Editor's Note:
Lesser known shipowner ZIM of Israel but still a major player on selected trade routes provided us with a great picture of mv ZIM Sammy Ofer here in the Panama Canal… let us hope it doesn't get stranded due to low water levels…