Week #44 | 3rd of November 2022
Dear Readers,



It is Thursday the 3rd of November and we are here again. With less than 2 months to the new year of 2023 I am again amazed by how quickly the time passes and I am sure that most of you feel the same.
As we get older time is more fleeting, so what is important in life is to do something that you would like to do while you still have the time, health and opportunity to do so.  Having said that it leads me to once again share a little about my recent trip to Lord Howe Island which is around two hours off the coast of Sydney by air.  Although I was delayed 5 days due to stormy weather and inability to land in the small airport (see video here) it was the most pleasant paradise island that I had ever visited.
Due to the delay I had to cancel my plans to visit Kota Kinabalu, instead flying Sydney to Stockholm via Qatar. I arrived 1pm on the 30th after some 23 hrs of flying, 12 hrs of waiting in airports and 9 hours of time difference – pretty knackered to say the least, but happy.  When the skies cleared the morning of my departure it was worth all the worrying during the stormy days. I have never been in a place with such horrific stormy, windy and thundery weather and knowing that there is no way in or out of the island, it makes you realize just how "small" you really are.  After the storm comes the sun, see the featured video below from the morning of 29/10 before leaving for the airport.
Then to top it all off departing the island our plane passed over the small freighter ISLAND TRADER coming to the island with supplies out of Port Macquarie.  View the departure video here, the vessel is visible at the end of the video.
So when talking about the ONE, Lord Howe Island is the one, but ONE is also the name of a reputable and freight forwarder friendly Japanese shipowner group with worldwide services.  We recently had a nice interview with them and you can find here what they told us.  Do contact them if & when you need rates for both general and project cargoes worldwide.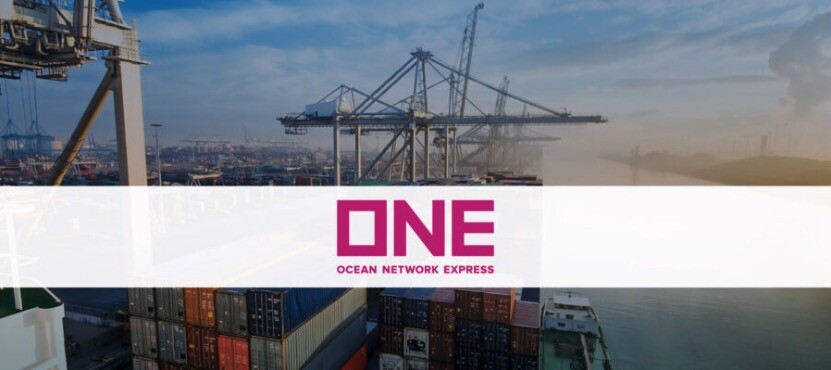 Read the interview with Ocean Network Express (ONE) Europe & Africa
Now back in Stockholm and trying to get back to some kind of normalcy.  Autumn has taken a full hold whilst I was away and to be greeted by lovely kids when arriving and even a kind wife who was happy (I think) to have the husband back makes the trip worthwhile.  Of course I brought the necessary bribes along in the shape of various presents etc., so it was a kind of XMAS eve last Saturday after I landed.  Two hours after my arrival I did fall into a deep sleep and didn't surface until Sunday noon time – but I did have luck when traveling back with Qatar Airways because on both sectors SYD/DOH and DOH/ARN there was no-one in the middle seat.  On the first sector my seat-mate was an Indian gentleman who just had disembarked "Ovation of the Seas" in Sydney after 6 months of work onboard and he was now going home to his family.  Big smile on his face and my seat-mate on the 2nd sector was a Finnish lady who had been to a yoga or meditation / rejuvenation course in Cochin, India. She looked relaxed and happy too!  I always make a point of meeting people that I travel "together" with, it helps on the trip, you learn about other people, and you find that most are indeed friendly, relaxed and just wanting what most of us want, a good and happy life during the time that we are here.
My next trips coming up are to Gothenburg, Copenhagen and Grenaa where my parents are. My father is still with us after a year of being diagnosed as terminal which means that I have a chance to meet him again and have yet another whisky on the rocks and talk about old times, now I can add my travel venture to Fremantle and Lord Howe to what we will talk about.  Then I am off to Dubai, Singapore, Kuala Lumpur and Malta which concludes my travel for 2022 and empties the corona backlog 100%.   The Middle East based airlines do seem to have found both the right service mode for travelers while offering a great "transshipment" hub in both Doha and Dubai respectively.  If only more airlines could come up with similar ideas and service – "we" are really behind on service when speaking of most western airlines but apparently in our arrogance we still believe we are the best!  Not so!
So enough of this "lonely planet" editorial and back to the shipping business which is the reason for all this "tripping"…
We have the following:
1. Fleet Line Shipping Services in U.A.E., and the nice and clever daughter of the owner, Mr. Peter Mathew
2. Maldives Shipping, a company very much based in paradise too
3. Silkargo Indonesia, part of Samudera Group and respectable and capable Indonesian shipping group
We of course provide you with shipping news, trade intel, wise words and a link to both featured picture and video of the week!
Don't forget to download our PCW app here……
And we remain until next week.
Yours sincerely,
Bo H. Drewsen
bo.drewsen@projectcargo-weekly.com
Video Interview
Fleet Line Shipping Services – Dubai, U.A.E.
Simona Peter, Business Development Manager at Fleet Line Shipping, Dubai, UAE was interviewed by Bo H. Drewsen, Editor in Chief at PCW
Video Interview
Maldives State Shipping
Thaha Mohamed, Commercial Manager at Maldives State Shipping was interviewed by Bo H. Drewsen, Editor in Chief at PCW
Video Interview
Silkargo Indonesia
Yudi Riyadi, President Director at Silkargo, Indonesia was interviewed by Bo H. Drewsen, Editor in Chief at PCW
Digital Focus is Key as Saudi Arabia Invests Billions in Logistics Infrastructure
Editor's Note:
Saudi Arabia is quietly developing a lot in the field of infrastructure and is also gradually opening up to the outside world… Here something on this topic from an article in Loadstar that might interest you.
The Middle East kingdom announced it had earmarked the funds to incentivise global supply firms to invest in Saudi as a logistics hub, part of its ambition to become one of the top 15 economies in the world by 2030.
Single Window for EU Customs Created and New Rules Adopted for Digital Collaboration
Editor's Note:
Interesting news regarding customs from the EU here explained by an article in shipping & freightresource. Anything that can remove obstacles and red tape we should always applaud.
Efficient customs clearance and controls are essential for the smooth flow of global trade. One of the ways in which countries are achieving this is through the creation of single-window systems/environments.
Bahri RORO-CON-Plus Sailing Schedule
Editor's Note:
BAHRI is the Saudi owned con-ro shipowner that has in-effect a true round the world service. Why not speak to them next? They have a very interesting port rotation according to this editor…
Contact:
Michael Dowling​
Sr. Branch Manager ‑ USA
E. MDowling@bahriline.sa
T. +1 713.955.3318
M. +1 832 438 2904
AAL Sailing Schedule: Asia – Europe Trade Route
Editor's Note:
Another reputable shipowner AAL, in effect since some years now is taking over the famous pearl string service route of the now defunct Rickmers Linie, and they (AAL) provide experienced hands-on and properly managed breakbulk services with modern day ships.
Smurfit Kappa to Invest in Biomass Boiler in Colombia
The ambitious project is the latest example of the circularity that permeates every aspect of the company's operations. Smurfit Kappa has successfully implemented biomass boilers at several other locations including the Nervion, Piteå and Sangüesa paper mills in Europe.
Andritz to Install Predictive Maintenance System at Welspun Advanced Material, Telangana, India
Andritz has received an order from Welspun Advanced Materials, India, to supply a Metris predictive maintenance system for its spunlace production line at the Telangana plantAndritz has received an order from Welspun Advanced Materials, India, to supply a Metris predictive maintenance system for its spunlace production line at the Telangana plant.
Ocean Winds' Offshore Wind Project in Poland Gets Environmental Decision
Ocean Winds, a joint venture between Portugal's main utility EDP and French company Engie, said Monday that its BC-Wind project in the Polish section of the Baltic Sea had received the "Environmental Decision," meaning that the project successfully completed the environmental impact assessment process.
The decision was taken by the Regional Directorate for Environmental Protection (RDOŚ) in Gdańsk, Poland, for the BC-Wind offshore wind farm project.
Vena Energy to Develop 2GW Offshore Wind Project in Australia
Singapore-based energy company Vena Energy plans to build the Marlin Offshore Wind Project, a 2GW offshore power facility in Victoria, Australia. Located 23km from the Victorian Coast in the Gippsland Basin, the offshore wind site was first identified by the company in 2017.
Lord Howe Island – A True Paradise Island
Editor's Note:
The morning before my departure from Lord Howe Island, my commentary in the video speaks for itself…
Editor's Note:
Visited Lord Howe Island and in less than 20 minutes you can visit both the northern beaches one facing west and one facing east enabling you to get sunset/sunrise with considerable ease. As for shipping, a supply vessel arrives about once a month from Port Macquarie.